Preparing Leaders to Communicate Better
Media Skills and Investor Presentation Training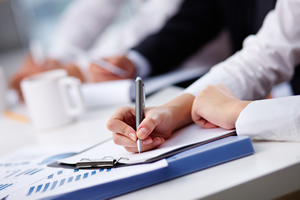 Many senior executives are too busy managing an organization to have time to develop critical communication skills.
Our lead trainers – with senior journalism or investor relations experience – have helped dozens of CEOs master critical media skills to help them attract attention of the media or investors in a positive manner, handle interviews and crisis situations.
A botched interview can impair your organisation's reputation, while a weak performance at an investor roadshow or IPO could be costly in terms of a lower valuation or stock price.
Our trainers have coached dozens of senior executives in the region.
Our media training services are tailored to the needs of the individual or team. We teach basic and advanced communication techniques, and simulate interviews and press conferences (sometimes with a camera crew).
The following describes our training modules:
Understanding the Media and the Investment Professional
What a Journalist or Stock Analyst really wants
Basic tools of Communication in media or investor contexts
Interview Techniques
Going 'live' on TV – are you ready?
Presentation Training – how to sound convincing  at an IPO,   investor roadshow or major presentation
Crisis Management – what to say and how to say it when the heat is on and deadline is short?
High Speed Writing Skills
This module addresses a basic question important to virtually all modern organisations: What if you and your team could slash at least half the time spent in writing memos, emails, position papers or management reports? The time saved can be channelled to solve other pressing problems, increase sales, meet customers or business partners… or simply clock out earlier to chill out with family and friends.
Today's managers and leaders are stressed with deadlines for reports and written documents. Our writing course targets people who need to write documents – reports, letters to customers and business partners, commentaries, press releases, emails and whatever else… better and faster. This course will coach students to get the message across effectively and overcome the fear of writing. The course will include the following:
Where does writer's block come from? Understand  the fundamental sub-conscious mental trigger which makes writing such a chore for post people, and learn how to overcome it
Organising information rapidly
Planning before the actual writing
How to develop themes; how to start and end
How to "hook" the reader and keep him or her engaged
Practising different styles of writing
Mind-mapping and for better and faster financial writing
Get a quote by sending us an email below: